Renewable and Sustainable Energy Transition
Study in person or On-Line from anywhere in the world
The MSc in Renewable and Sustainable Energy Transition (A14R-SET) is delivered by academics at our ORKNEY CAMPUS or remotely through the Heriot-Watt On-Line. The MSc is valuable for professionals from a range of related disciplines. The MSc course has been designed to teach the principles, methods and tools around the key drivers of energy transition:
Policy and Economics
Renewable Technology and Energy Delivery Systems
Energy End Use and Benefits to Society
The Environmental and Resource Issues of Unsustainable Energy
Transition Engineering
The programme specifically addresses these key drivers of energy transition as they are found in every location around the world.
The course aims to give graduates cross-cutting skills in the renewables sector, and tools and methods to deliver transition to net zero across all sectors. The course introduces the very latest approaches for working with multidisciplinary stakeholders, and proven methodology and tools for energy transition for professionals across disciplines. The course addresses the needs of renewable energy developers as they seek to maximise economic benefits whilst grappling with challenges of overcoming regulatory and environmental issues, working within the values of local communities and securing finance.
Teaching is reinforced with project work where emphasis is placed on simulating real working situations, and discussing the complex aspects of energy transition projects in a number of global regions.
The course maintains strong links with industry and regulators involved in the sector to ensure its relevance to the demands of energy transition in electricity, heat, transport, buildings, and infrastructure.
| | |
| --- | --- |
| Programme Name | MSc Renewable and Sustainable Energy Transition (ReSET) |
| Delivery | Full-time (1 yr) or Part-time |
| Course Type | Taught, Lab and Project |
| Location | Orkney and Fully On-Line |
| Entry Date | Apply by Aug for Sept start of the 1 Yr MSc, or anytime On-Line |
| Full-Time MSc | Sped 12 months in Orkney, Scotland |
| OnLine Part Time | Complete the programme by taking courses in your own time within a total of 6 years. |
| Take any class any time | You can apply for the MSc, but then do only the courses you want. |
| Programme Start | Scholarships |
---
If you study at our Orkney Campus, you will benefit from a number of activities including guest lectures and practical sessions which help to develop your skills and knowledge in your field of study, and offer opportunities to meet developers and others involved in the renewable energy industry. You will also be able to participate in Transition Engineering Labs associated with the Islands Centre for Net Zero.
Financial support
Tuition fee loans of £5,500 are available to Scottish distance learning students on taught postgraduate courses. Full-time distance learning postgraduate students can also access a £4,500 living cost loan. Find out more from the Students Awards Agency Scotland (SAAS)
---
Flexible study options
This MSc course can be studied full-time over the course of 12 months at the Orkney Campus. Alternatively, you can study via On-Line Learning from anywhere in the world, ideal for those in employment or with other commitments, providing flexible study options that fit around work or family. You can take one or more classes for credit. Complete 8 courses without the dissertation and earn a Postgraduate Diploma.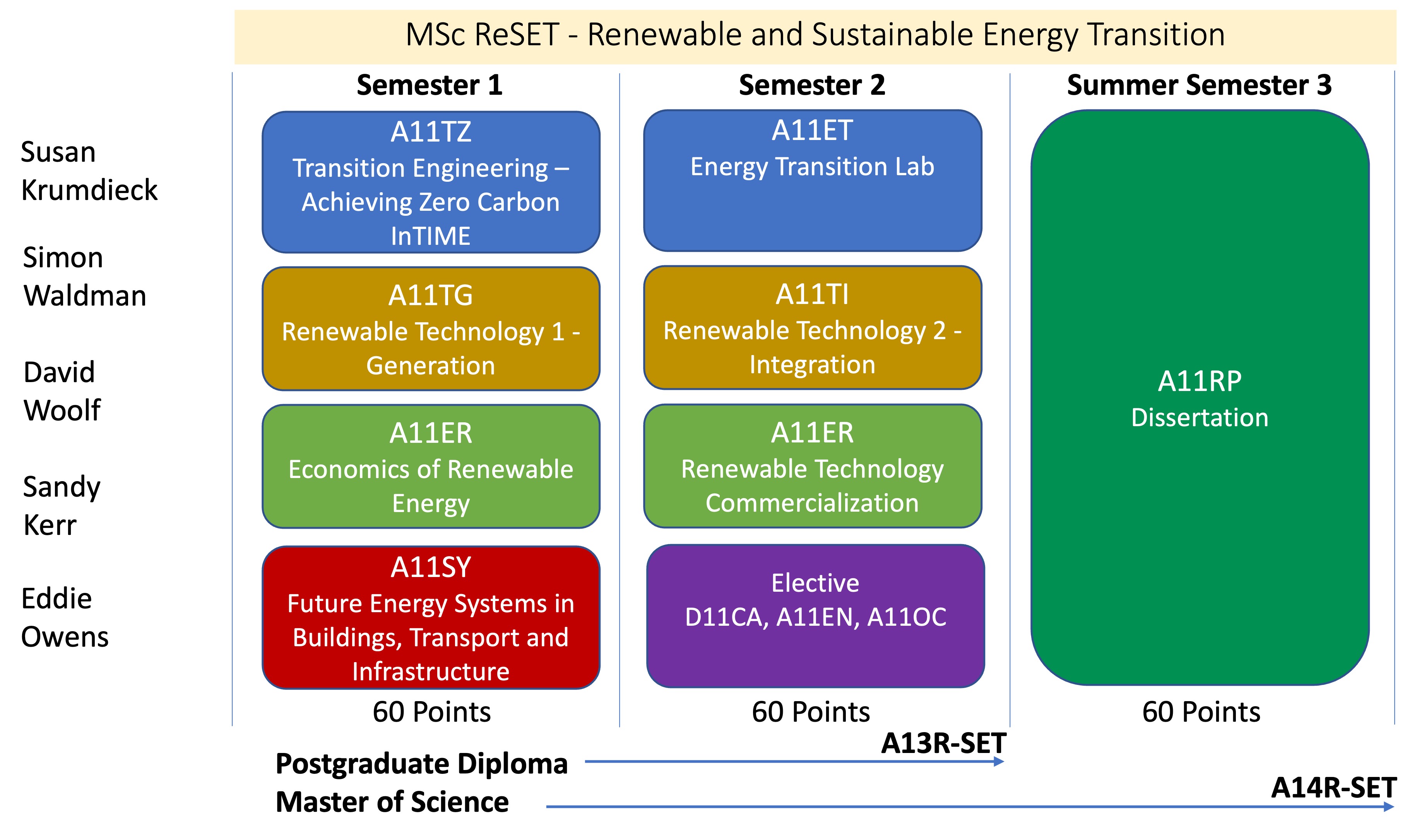 Electives: D11CA Climate Change, Sustainability and Adaptation, A11EN Environmental Processes, A11OC Oceanography
---
Lecturers
| | | |
| --- | --- | --- |
| Professor Susan Krumdieck | Chair in Energy Transition Engineering: Transition Engineering and Energy Systems Engineering | Profile |
| Professor Eddie Owens | Professor of Sustainable Energy Systems: Energy Systems and Energy Transition | Profile |
| Associate Professor Sandy Kerr | Director, ICIT Orkney, Energy Economics, Finance and Policy | Profile |
| Assistant Professor Simon Waldman | Energy and Environment Modelling, Renewable Energy Technology | |
| Associate Professor David Woolf | Marine Renewable Energy, Regional Climate Change and Impacts, Global Carbon cycle | Profile |
---